A Whole House Remodel can change a comfortable but unremarkable home into a stunning showcase that is as warm and welcoming as it is beautiful. Perhaps that explains why remodeling is such a hot trend right now. After all, why move from a lovely and inviting neighborhood, and an essentially great home where you have created so many wonderful memories, when you can renovate that home. You can make it precisely what you want for your current lifestyle. That's the charm of house renovation. (There are many advantages of a Whole House Renovation.)
However, despite the dazzling results, there's one caveat: Renovating a whole house means that the room undergoing renovation is unavailable for use. While this can be a major inconvenience if you don't plan for it, a little forethought makes the entire process much easier. This is particularly true for kitchens and bathrooms, perennial favorites for remodeling and probably the most frequently used rooms in your home.
With one or the other always occupying first place as the room of choice among homeowners beginning a whole-house renovation project, many start with the kitchen. The best part is that renovating either of them is a fast way to update your home. So, as you begin your renovation, here are a few considerations to make the whole renovation process easier whether you choose the bathroom or the kitchen as your starting point.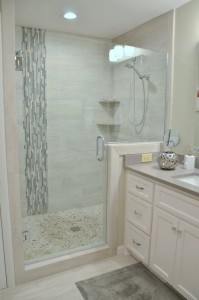 1. Bathroom – Whole House Remodel
It's virtually impossible to get by without a bathroom. Yet revamping a bathroom requires exactly that for the duration of the renovation unless you plan an alternative. That's why renovating your bathrooms one at a time rather than simultaneously is the solution, ensuring that there is always a bathroom available to you.
2. Kitchen – Whole House Remodel

Since eating is essential, creating a makeshift kitchen in your dining room during your kitchen renovation is a helpful option. Equipped with a microwave oven, a mini refrigerator and paper goods, your dining room makes a surprising adequate temporary kitchen.
It's tips like these, acquired during our more than 20 years in home-renovation planning and remodel services, that are part of the professional acumen we at TrendMark pass along to our clients. Whether you make your kitchen or your bathroom the starting place for your whole house renovation, or any other area, let us handle all the details. Consummate professionals, we have the experience and expertise to ensure not only the highest ROI but also that your dream home will come to fruition just as you visualized it. When it's time to renovate your home, TrendMark is your expert team in customized renovation and exemplary customer service.

For those homeowners in the Raleigh, Cary, Apex, Durham, Chapel Hill area, Trendmark is the company of choice for a whole house renovation. We look forward to meeting you and creating a plan you love for your home.