Are you looking to add value to your home? One of the places where your attention should be focused is the kitchen.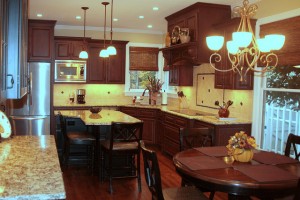 Kitchens sell homes, so improvements and upgrades made here will return great dividends in the long run.
Redo the Cabinets
If your cabinets are outdated, give them a face-lift. This is the most obvious part of your kitchen, and ugly cabinets are going to turn people away the moment they walk into the home. Keep in mind that you don't have to completely replace the cabinets either. Re-facing the cabinets can breathe new life into the space without increasing your costs significantly.
Update the Counter tops
The counter tops are another place where investing a little bit will pay back in big time rewards. Attractive counter tops will add interest to your home and make people stop and take a closer look. Whether you replace or resurface, give a little bit of attention to your counters as you try to add value to your home.
The Kitchen Floor
Nothing screams "outdated" quite like yellowing, faded linoleum on your kitchen floor. Spend a little bit of time and money updating the floor, even if you opt for a simple self-stick upgrade, and your home's value will increase. Cover up that outdated, ugly floor with modern laminate or tile, and you will see significant gains in home value.
Change the Hardware
If your budget is tight, make small changes that have a big impact, like updating the hardware. Remove old, outdated and dirty cabinet pulls and knobs and replace them with something modern. Give the kitchen faucet an upgraded look. Small changes like this can have a big visual impact, and increase your home's value.
Remember, improving your kitchen does not necessarily mean you have to gut it completely. A little bit of change here and there adds up to a big impact, if you choose wisely.
If you have questions about what you can do to improve your kitchen while adding value, contact TrendMark, Inc. today.