Bathroom Inspiration
One of the rooms that we spend a lot of time in, but don't think much about, is the bathroom. How would your day be different if you started out in a spacious, smart, relaxing bathroom that reflected your personal style as opposed to the small, outdated bathroom with insufficient storage, that you have now?
What about your kids? How would their day change if they didn't need to fight over the one sink and the one shower available to them?
How do your guests feel when they see the state of your powder room?
Too many homeowners put up with an unattractive or awkwardly designed bathroom for way too long.
Here is some stylish inspiration for a bathroom remodel:
Is your bathroom dark? Brighten it up with white subway tile and white cabinetry. A larger window or more light fixtures can help, too.
Does your bathroom look too busy because of flowered or striped wallpaper? Embrace simplicity with solid colors.
If you are tired of the bland, neutral, off-white paint chosen by the contractors, choosing new countertops, vanities, and paint color can impart your personal taste to this personal room.
Get rid of the overflowing baskets and bins of toiletries on the vanity. Gain some out of the way storage space with clever cabinetry, closets, or drawers.
Add some peace to your home by adding more space for your kids to use. Double sinks or a door between the toilet area and the sink area will allow more than one person to use the bathroom at a time.
Update the look of your powder room to make your guests feel comfortable. This can be done easily with new tile, mirror, vanity, or faucet. Or turn your powder room into a full bath for your overnight guests.
If someone in your home is getting older, now's the time to add railings and a walk-in tub before it's absolutely necessary.
Replacing older toilets and sink fixtures can save on your water bills since the newer ones are more energy efficient.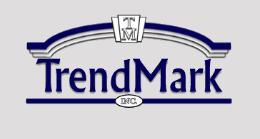 Trendmark, Inc. has completed many bathroom remodels to suit the need and style of each individual family. Check out pictures of some past bathroom remodels for more inspiration. If you are ready to update your bathroom, let us come dream up an ideal bathroom with you so you can start and end your day in peace and in comfort.