Bathroom lighting is more than a necessity for every bathroom. A properly lit bathroom helps to make you and your bathroom look their best as well as ensuring your safety when you are in the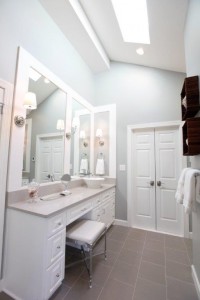 bathroom.
1.  Evolution of Bathrooms.  Bathroom lighting is now more complex as bathrooms need many levels of lighting with different functions such as showering, bath area, styling and the sink area for daily tasks. A good lighting design requires multiple lighting types and styles for the highest impact.  It's a misconception from years past that bathrooms must be brightly lit. Bathrooms have evolved over the last decade from simply functional rooms to mood setting and relaxation rooms. Stylish lights and fixtures will help turn your bathroom space into a luxurious, spa-like retreat.
2.  Lighting Styles, Colors and Designs.  Bathroom lighting comes in so many styles, colors, designs and layouts that even the most selective of homeowners will have plenty of options to choose from–vintage, contemporary, traditional or strikingly modern lighting fixtures. Try adding a bit of whimsy to the bathroom with a mini-chandelier, it will create romantic overtones and make you feel pampered every time you enter.
3.  Mirrors. Mirrors contribute to the bathroom's ambiance as well. The large sheet mirror found so frequently in bathrooms can be replaced with individual mirrors, framed or unframed, etched or beveled, tilted or flat, round, square or shaped, large or small. Mirrors provide an excellent way to brighten and expand the look of your bathroom and to optimize your selection of lighting.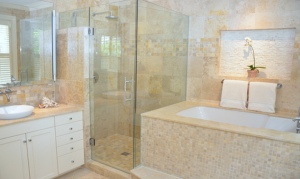 4.  Ambient Lighting.  Ambient lighting is typically provided by ceiling fixtures or recessed can lighting, and is especially important in the bath because of varied mixtures of materials and finishes, many of them shiny surfaces like wall tile, floor tile and chrome faucets. Ceiling lighting helps to illuminate the rest of the bathroom and can be used in the center of the room or in alcoves to improve overall conform-ability and safety.
5.  Private Retreats.  Now that homeowners are turning their bathrooms into private retreats or home spas, more attention is paid to the selection of lighting fixtures and mirrors. Sleek metal finishes, bold architectural shapes, antique looks, frosted glass, and even hand-painted styles add punches of style to the room. Designer bathroom lighting pieces lend a touch of unique individuality to your home and go a long way to establishing ambiance in your bathroom.
How About You? What do you look for most in lighting for your bathroom oasis? We look forward to your comments below or contact Wallace here.