As spring approaches, thoughts turn to outdoor living for many homeowners. Sunrooms and screened porches have traditionally been special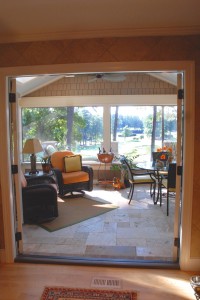 spaces for family activities where they can enjoy the benefits of the outdoors without putting up with insects. The light-filled retreats add casual space for relaxation and entertaining to the home and often include a view that enhances the room's appeal.
A million dollar view of a lake surrounded by trees with a golf course running beside it convinced some Triangle homeowners to purchase a mundane 1970's residence. They then turned to TrendMark to transform the house into their dream home and to maximize the exposure to the view behind it. They wanted an area above grade that would have unobstructed views of the panorama around them. The sunroom and terrace that resulted from this desire certainly epitomize the requirements of most families for this kind of addition.
Replacing the existing carport with a three car garage provided the platform for a stunning screened sunroom surrounded by a terrace bordered by stone columns separated by heavy plate glass. Travertine tiles cover the terrace and the floors of the sunroom, providing both warmth and ambiance. Year-round furniture invites family and guests to enjoy the setting either inside or outside.   The screened sunroom is filled with light, its wide openings offering tempting views of the lake, and a ceiling fan stirs the air when lake breezes don't. The wide expanses of the large window-like openings are covered by custom screening tinted to diminish the sun's glare and reinforced with fiberglass to withstand wind damage.and golf course. The vaulted ceiling is pierced by two skylights.
Not every home has a vista like these homeowners did. If you are contemplating adding on or remodeling your existing space for a sunroom, consider first the primary needs you will have for this area. Do you want all the space enclosed or some of it an open deck? Do the needs of your family require that you have storage for toys or sports equipment? Are you going to use the space mainly for entertaining? Do you want to have a totally casual room or do you want to include stone, exotic woods, formal lighting, a fireplace, a built-in grill or a wet bar?   Whatever view you may have behind your home—a garden, a pool, beautiful landscaping, an extended vista–, you can maximize its advantages with this space for family relaxation and entertaining. Converting your existing porch to a sunroom or building an addition to the back of your home can add hours of pleasure to your lifestyle while increasing the value of your home exponentially.