Kitchen Backsplash.  One important decision to consider when remodeling your kitchen is the backplash.  There are many quality backsplash options available for homeowners.  This can make a big impact on the overall kitchen remodel.
1.  Colors and Style.  Pick colors and styles that blend with your countertop, cabinetry, and kitchen décor. Busy materials, such as granites with large swirling patterns, will do better with a simpler backsplash. Solid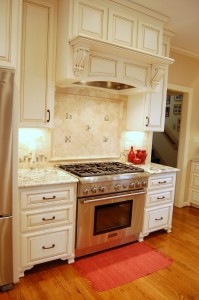 colored counters can handle more decoration.
2.  Types of Tiles. There are many types of tiles to choose from, and they come in all price ranges. In recent years, there has been an explosion of new tile colors, patterns, styles and textures. Ceramic tile is durable, easy to clean, and colorful. A ceramic tile mural framed with pencil rail or chair rail tiles is a stunning focal point above the cooktop. Glass tiles have become very popular. Their shiny luster, opaque tones, and small size offer dimension and beauty in small areas as well as large ones. Metallic glass tiles backed with metallic paint give a three-dimensional effect.
Metal tiles come in brass, polished chrome, copper, or stainless steel. Small mosaic tiles in a random pattern or in multiple colors create visual energy. A stone backsplash goes great with rustic or Mediterranean style kitchens.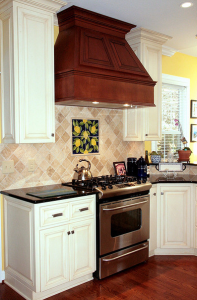 3.  Mix Materials? Mixing materials adds extra dimension to the kitchen. Handmade ceramic tiles can be showcased against tumbled marble. Glass mosaic tile can be cut into strips and run through subway tile, as well as framed behind the stove for a dramatic effect. Using decos (inserts placed into the backsplash) for accents is a great way to add some oomph to your design without breaking your budget.
Installing the tile on a diagonal gives an interesting look. Some backsplashes look fantastic when the tile is canted at a 45-degree angle. Or you can use different sizes (1x1s, 4x4s, even 12x12s and 18x12s) and shapes (square, rectangle, broken) of tiles to achieve a unique design.
4.  Borders and Accents.  Most lines of tile have special trim tiles for creating borders and accents and for finishing corners and edges. A rounded-edge tile called a bull-nose is used to finish off the outer edge of the backsplash.
5.  Cost Consideration.  As with any other remodeling project, the costs vary with your choices. Special order tiles can be  expensive to ship. Elaborate designs combining several types of tiles are labor-intensive and can increase the installation costs. Certain colors, styles or types of tiles are more expensive, but in the end can be the difference between ordinary and spectacular, will set off your cabinetry and appliances, and will become a focal point for your kitchen.
How About You?  What is your favorite backsplash tile option?  Have you seen backsplash tile installed on a diagonal?  Did you like the look?
If you are considering a kitchen remodel, be sure to contact Wallace Baker here for an initial consultation.