Congratulations to Price!  He is the third dog we raised as volunteer puppy raisers for Canine Companion for Independence and he is now with his life-long partner as a skilled companion.
Price was teamed up with Cole, an 11-year old boy with cerebral palsy. They make an amazing team and Price will help him in so many ways. Read the Featured Article below from Gainesville Times.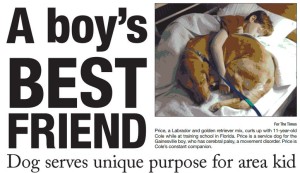 Original article from Gainesville Times, July 21, 2013
Price, like a lot of 2-year-old dogs, has a friendly disposition.
He gets excited about meeting new people and enjoys a good game of tug-of-war. But when Price wears his blue vest and collar, he's all business.
"It's funny how serious he gets when you put on his jacket," Tracy Padgett said as she slipped on his collar.
Price's job for the next six to eight years, until he's retired, is to be a skilled companion dog for Tracy's 11-year-old son, Cole. After Price retires, the family plans to adopt him as a pet.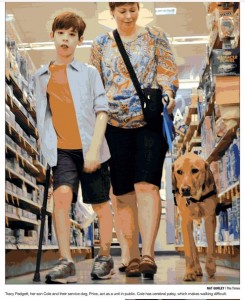 Cole has cerebral palsy, a movement disorder making walking or bending over to pick up items difficult.
"When Cole drops something, it's hard for him to bend down and pick it up," Cole's father and Gainesville City Manager Kip Padgett said. "He'll have to go down to his knees to get it himself."
Therefore, the family decided to find a helping hand, or paw as it turned out. The Padgetts spent years searching for a service dog. After applying to Canine Companions for Independence a year ago, the family heard the good news. A dog in Florida would be Cole's constant companion.
Cole and Tracy traveled to Orlando, Fla., the company's Southeast headquarters, for two weeks in May to train with Price. The pair learned all 40 commands and how to care for the animal. While training, Cole and Tracy met the woman who cared for and trained Price since he was a puppy.
Catherine Baker, of Raleigh, N.C., has been a volunteer puppy raiser for Canine Companions for Independence for several years. Price, a mix of Labrador and golden retriever, was the third puppy she trained to become a service dog. Baker kept Price until he was 18 months old and taught him basic house manners and commands before sending him to advanced training in Orlando.
Baker met the Padgetts a few days before they graduated from the training program together. The North Carolina woman said seeing Cole and Price interact that day reminded her of why she works so hard to train the dogs.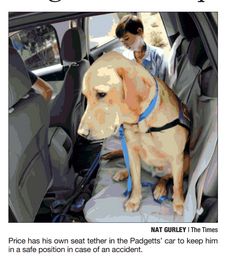 "I think they're perfect together. They're a perfect match," Baker said, her voice cracking. "One of the biggest questions we always get is how can we raise them and give them up. … But when you see how special they are together, how special the bond between Cole and Price is, it just answers the question."
Baker said more qualified volunteer puppy trainers are always needed. She encourages anyone who is interested in becoming a trainer to visit the Canine Companions for Independence website at 
CCI.org
.
Because of the advanced training, Price knows 40 commands and can open doors, press buttons, retrieve fallen items and push drawers closed for Cole. They still practice the commands and go over the rules with Price, but the family's new member has already become a useful addition.
"Price can pick up" anything Cole drops, his father said. But that's not all he can do.
The four-legged friend is a source of social interaction. Cole explained he's wanted a service dog for a long time and is excited about having his "great friend."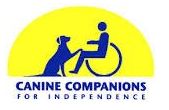 "I think he would give me someone to hang out with and play with and throw the ball for him," Cole said, smiling.
Tracy Padgett said the dog will act as a "social bridge" for Cole.
"Kids can be cruel even to typical kids," Tracy said. "Cole's had instances where kids aren't very nice. Of course, they're curious because of the way he walks, but some of them are just mean. A lot of times what Price does is take the attention away from Cole. So people see the dog and then people see Cole as this really neat kid who has a cool dog who's extremely well behaved. He gets to take his dog to the stores and restaurants and stuff."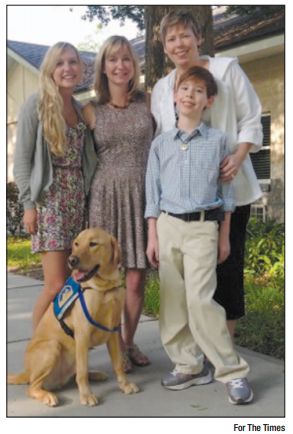 Tracy Padgett and Cole work with the service dog as a team, because Cole is still a minor. When in public, the three are always together.
One of the most surprising aspects of being out in public with a service dog is how many people just walk up and start petting the animal without asking. The blue vest Price wears has a large sign asking people not to pet him because he's working.
"But that's one thing Cole can do as well," Kip Padgett said. "If someone comes up wanting to pet him, sometimes they'll ask and Cole can say 'Well you can't pet him, but if you put your hand out I'll have him shake your hand."
Cole said it's just one of his new best friend's cool tricks and he's glad to finally have him.
Price seems just as attached to Cole. Whether they're in public or at home, Price never leaves Cole's side.
"Price is by his side all day long," Tracy Padgett said. "He sits by him if he's playing video games, if he's reading books. He sleeps with him at night. He's just his best friend."