Thinking of remodeling your home but need some ideas? Take a look at these top 7 Home Remodeling Trends for 2016:
Low Maintenance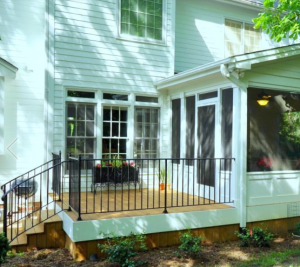 This year we saw a rise in the use of low maintenance materials when remodeling. For flooring, laminate can resist scratching and staining. Quartz countertops do not require sealing unlike a granite countertop. Composite decking can have the texture and look of wood, but without the time consuming maintenance. Today's homeowners want to spend time living in their home and not living to spend time on their home.
Bringing the Indoors Into the Outdoors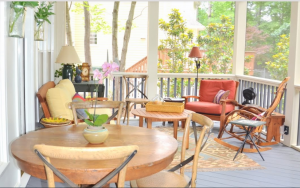 According to the American Institute of Architects' AIA Home Design Trends survey, outdoor spaces have become almost as important as indoor living spaces. In 2016 there was even more emphasis and time put into creating outdoor space that mimics indoor space. Beyond a simple deck or patio, there are whole outdoor seating areas complete with lights, rugs, and plush furniture beckoning you to come sit in the sunshine or the cool evening breeze. Fire pits and fireplaces with seating areas are also zooming in popularity this year. Thinking of your outdoors as an extension of your indoor living area will create unity and flow from one section of your home to the next even when stepping outdoors.
Open Concept Layouts Rather than Separate Living and Dining Areas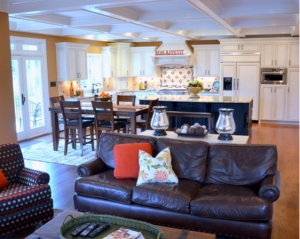 This trend has been around for several years and is not going away anytime soon! Rather than having a home chopped up into separate spaces each designated for one traditional use, the open concept allows for family togetherness while performing different functions in the same space. In a remodel, creating open space with two or more closed off spaces is often easy to do and makes a huge difference in the natural light flow in a home and for appearance of size.
Color In Your Kitchen
If you are ready for a new color for your gray or white kitchen, try out warm yellow or green or even a shade of purple. Not only does it give the kitchen a homey feel, but these colors can up the resale value of a home. In a June 2016 survey of 50,000 American homes, Zillow Digs found that homes with kitchens painted in warm, neutral yellow and green colors yield the highest premium ($1,360 over expected value). Purples such as lavender, eggplant, and mauve in the dining room were found to fetch an average of $1,122 over asking price.
Remodeling to Stay at Home as You Age
As the Baby boomer generation gets older, they are planning ahead and remodeling their home to plan to stay in their home as long as possible. As their knees are starting to give them trouble, they are remodeling to include a full bathroom and a bedroom on the main floor to avoid the steps. Some are even including an entire in-law suite either for them or for a child to move in to care for them if the need arises. In the kitchen, they are planning easy to reach cabinetry and walk-in pantries. They are also remodeling their bathrooms so that there are walk-in showers or handicap railings and handles for safety.
Home Offices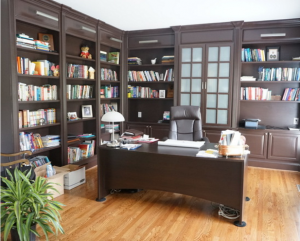 For those who are still working, telecommuting either full- or part-time is still on the rise. Rather than balancing a laptop on the living room end table, this year's trend shows the popularity of turning a room into a home office or building a home office addition. If there is not enough space to designate an entire room to an office, some are putting in built-ins to function as an offices in a part of a room.
Curb Appeal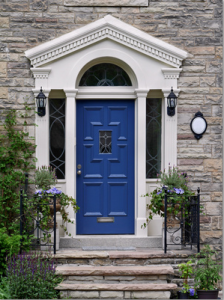 Curb appeal has always been a factor when considering a remodel. This year's trend focuses on the door. What's the trend? Making sure the door is an unique piece and painted in a unique color different than the shutters and the siding. Red, turquoise, and bold blue are a few of the popular colors from 2016.
Give Trendmark a Call
If you are interested in one of these trends for your own home, or if you are interested in several of them, give Trendmark a call. With 20 plus years of building experience, we know what will work and what is happening now. We would be glad to meet with you and help you create a plan to update your home in the remainder of 2016.
Give us a call:
919-868-4545