Now that you have decided to renovate your home, hiring a professional contractor is the next order of business. After all, it takes a skilled professional — someone who not only understands your vision for your home but also works in conjunction with you — to make your renovation dreams come true. Yet finding that expert can be tricky. With the large investment you are making in both time and money, you want the assurance of a job well done. That's why asking the right questions are paramount.
Therefore, to assist you in hiring a consummate renovation contractor, here are five questions to ask:
1. What do you include in the scope and renderings of the project?
Expect a detailed, written description of your project. Included among the fine points should be specific information on all that your home remodeling project will involve. This is known as the scope. Additionally, renderings or drawings of the plan as well as the guaranteed cost of the entire project along with a payment schedule should be part of the document. Whoever you hire, be sure to obtain all of this prior to beginning construction.
2. May I see your contractor's license and insurance?
A professional is legally required to be licensed and to maintain insurance. Both of these provide you a measure of confidence about the professionalism of the company as well as their compliance with laws. Here at TrendMark, everyone is licensed, bonded and insured, with building, electrical and plumbing contracting distinguishing features of our contracting. Our license numbers are all posted on our website and are also available for your perusal. When hiring someone for your remodeling project, remember to ask for both license and insurance documents.
3. What warranty do you provide?
Any company that is unwilling to warranty its work is not worth hiring. An indication of a company's desire to stand by the quality of its craftsmanship, a warranty is a demonstration of its commitment to customer service as well. That's why TrendMark not only warranties all of our work but we also conduct a thorough walkthrough upon completion of the project to ascertain whether everything meets your satisfaction.
4. How do you handle change orders and disputes?
Although it is costly to change your mind once construction is underway, you may find it necessary to do so. For that reason, you want to inquire about the procedures for change orders so that you are not caught unaware should the situation arise. Likewise, a clearly delineated process for handling disputes is essential. We, at TrendMark, are not satisfied until you are. As a result, we work in collaboration with you every step of the way to ensure that we meet your expectations. Overcome any reluctance, and ask about a company's means of resolving problems before hiring them.
5. How can I maintain contact with my project manager?
A superior company will provide a dedicated project manager for your home remodeling project, making communication with that manager easy and readily at your disposal. TrendMark's president, Wallace Baker, serves as the personal project manager for all of our projects, handling everything from planning and design to estimation and implementation. Offering individualized attention to detail, a dedicated project manager is a one-stop source for each client's needs.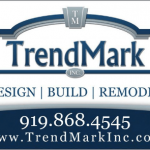 As you interview potential contractors in the Raleigh, North Carolina area, these five questions will help you separate the best from the rest.