Making the decision to invest in a kitchen remodel doesn't come easy. However, as the modern kitchen in today's homes has transformed into much more than a place to cook, more and more people are making the wise investment and are so thankful that they did.
The heart of the home is no longer the living room, or other common areas. Over the last 20 years or so, the "heart" has migrated slowly to the kitchen, a place where the family congregates and makes lasting memories.
A Place of Zen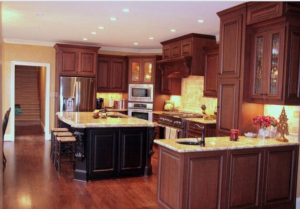 Whether it is a small renovation or total remodel, you can transform an old kitchen into a place of peace and tranquility. Matching functionality with style, the modern kitchen is where you go to unwind and fulfill a new level of health, incorporating body, spirit and mind. A blank canvas, adding just the right flooring, wall colors and décor, counters, cabinetry and appliances, a new kitchen will allow you to start and end your day with a renewed sense of you.
The Kitchen Makes a House a Home
The concept of a living room or den being utilized as the central spot to convene for entertainment purposes, or for family meetings has become a bit outdated. A completely remodeled kitchen now serves those purposes and then some. Carefully designing the space to not only meet your current needs, but to take into account what may be just around the corner is what will separate the kitchen from all the other rooms and in turn, transforming your house into a home.
An Open Floor Plan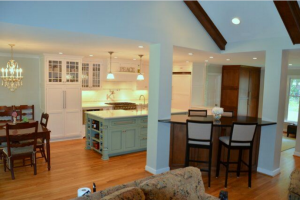 In older homes, the kitchen was usually annexed off from the rest of the house, a space all to itself with the sole purpose of cooking meals, blocked from family and guests who gathered elsewhere to enjoy one another's company. An open floor plan eliminates the segregation and allows the family unit and multitude of friends to be a part of everything that goes on and equally important, provides the same for those whose job it is to entertain.  An open concept kitchen is the popular choice nowadays, especially for families that value time together.
Utilizing an equity loan is an effective way to cover the cost of a remodel.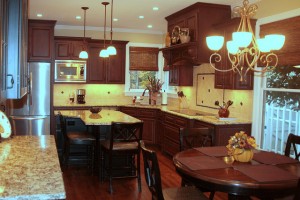 Having equity in your home is a very good thing and allowing that equity to work for you can pay off in a big way. That's because the money borrowed off the equity gets reinvested immediately, increasing the value of your home. There are also tax breaks associated with an equity loan for the homeowner, providing yet another key benefit.
Funding a remodel this way is a win-win situation, as it fulfills the home owner's investment in themselves, giving them a fresh, new central area full of possibilities, while it also sits near or at the top of just about every buyer's wish list in a home, adding the "wow" factor should the time come to sell.
"It was the best decision we ever made. We spend more time in the kitchen now than anywhere else in our home." Christine H.
How About You?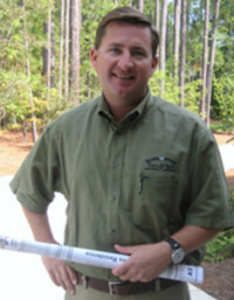 Have you considered a kitchen remodel for your home? What options are you considering? If you are considering a kitchen renovation or other house remodel, be sure to contact Wallace Baker here for an initial consultation to see how he can help. There are options for customized remodels to fit every situation.