Each year brings its own home renovation trends, and 2017 is no exception. We wrote an article of what was expected this year previously, so here is a mixture of ideas reprised from 2016 and new ones that are garnering increasing followers, the top trends in home remodeling are playing out in ways both expected and delightfully surprising. From home sizes and kitchen appliances to vivid colors and new decorative accents, homeowners are seeking ways to personalize their homes as remodeling remains the favorite choice over moving.
With $27,300 being the average amount that homeowners plan to spend on their home renovations this year, according to a recent survey, it represents a four percent increase over 2016, with kitchens and bathrooms remaining the areas most often remodeled. Of course, when you consider that these areas yield the biggest return on investment when a house is sold, are the best ways to update a home and provide immediate gratification to homeowners when they remodel them, it makes absolute sense that these two areas reign at the top of any list for home renovation.
Yet the difference from year to year is in the details, the ways in which people choose to renovate, the materials chosen, even the colors preferred by homeowners. To give you an idea of what's now trending in home renovation for 2017, here are a few of the highlights.
Stable Home Size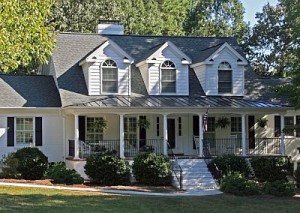 The trend away from outsized homes continues. Older homeowners, wanting ways to age in place, and younger people, seeking affordable homes, have arrived at the same conclusion: renovation is the answer. Appealing to those who wish to remain in their homes as they age, renovation takes the form of open floor plans and an individualized kitchen remodel or bathroom remodel, all of it with an eye toward providing complete comfort and mobility as these homeowners enjoy their homes in later life.
Keeping cost in mind, young buyers, on the other hand, opt for smaller homes on smaller lots, choosing to maximize the available space with renovations that include storage and innovative use of space. The overall result of these disparate decisions is that home sizes that once continued to grow have now stabilized in 2017, with a remodel replacing a move to larger accommodations.
Bold Color
Sunny yellow, deep blue, salmon-pink — color has made a return to home decor. From cabinets and appliances in a kitchen remodel to wall hues and decorative accents in room additions, vibrant shades are taking center stage, enlivening homes in which neutral tones once ruled. The distinguishing factor is that color is used judiciously, in selected items, rather than in every element in a room.
Seamless Indoor-Outdoor Living
With more and more homeowners enjoying all aspects of their homes, outdoor living and entertaining have become an extension of indoor living. A case in point is the addition of outdoor kitchens, enabling homeowners to have all the comforts of indoors while savoring the beauty of outdoors.

Always on trend, TrendMark offers the epitome of professional expertise and customer service for all of your renovation needs in 2017 and beyond. For those homeowners in the Raleigh, Cary, Apex, Durham, Chapel Hill area, Trendmark is the company of choice for a whole house renovation. We look forward to meeting you and creating a plan you love for your home.