Looking for Some Great Remodeling Ideas and the best in remodeling? Join us April 28th & 29th for the Remodelers Home Tour sponsored by the Remodelers Council of the Home Builders Association!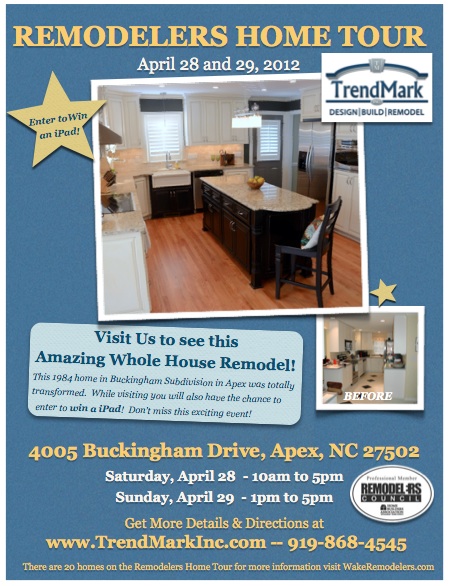 TrendMark successfully implemented all of the necessary improvements to the home to create the perfect combination of a beautiful home perfect for entertaining.
Location: 4005 Buckingham Way, Apex, NC 27502 – Shepard's Vineyard's
Tour Hours:
           Saturday, April 28th – 10am to 5pm
           Sunday, April 29th – 1pm to 5pm
Directions: 
Take exit 98B to merge onto US-64 W toward Pittsboro/Asheboro,  Turn left onto Old Raleigh Rd, Continue straight onto Old Raleigh Rd, Turn left onto Buckingham Way, the home is at the end of the street in the cul-de-sac.
About the Home:
From top to bottom our clients were eager to reinvent the way they lived and functioned in their home of over 20 years.  They had always dreamed of opening up the compartmentalized living areas on the first floor and expanding the small, basic, white galley kitchen.  After meeting with TrendMark to go over their wish list and goals, we carefully created a functional plan which would open up the first floor layout and double the size of the kitchen by relocating the laundry room and powder room, and removing walls throughout the first floor.  The new downstairs layout now flows harmoniously, making the house seem much more spacious.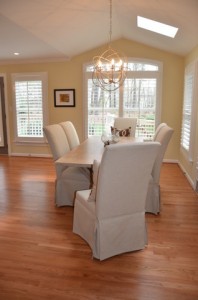 A luxurious master bathroom and upstairs laundry were also on our clients' wish list, but space was limited.  In order to add the needed square footage, a second story addition was constructed above the existing sunroom.  The new master bathroom is a homeowner's retreat with custom cabinetry and tile work.  The new laundry room on the second floor eases the burden of daily chores.  With new lighting schemes, trim work, a wrought iron staircase, smooth ceilings, hardwoods, and paint throughout, the inside of this home has been completely transformed.
Another item on our clients' wish list was a way to access the detached garage without encountering the elements of the weather.  A beautiful new breezeway was designed and constructed to connect the detached garage to the home.  Wrought iron railings were added on the porches for a sophisticated new look.  The final result is a gorgeous open home, inside and out, that feels and functions perfectly for everyday life and special occasions with family and friends.
Please visit our website at www.TrendMarkInc.com for more before and after photos of our award-winning projects.
This tour is sponsored by the Remodelers™ Council of the Home Builders Association of Raleigh-Wake County as a way to showcase how renovations can  transform living space by blending old and new for the optimum in aesthetics and function.  There are 20 homes on the tour for 2012.